Burst Pipe Damage Restoration in Newtown & Danbury, CT
At our homes and offices, many pipelines run underground and within the building to supply the property with water. Sometimes, that line can leak or burst because of ice, corrosion, collapse, tree roots, or extreme water pressure. When that occurs, our crews at New England Restoration provide superior burst pipe damage restoration services for decades to customers throughout our New England service area.
Since our company was founded in 1986, we have established ourselves as the best restoration company in Waterbury, New Haven, Danbury, Kent, and other cities throughout our service area. We offer in-house financing options as well as assistance with insurance claims for water damage, fire damage, storm damage, mold removal, and more. When you need our help with a burst pipe damage restoration project in New England, give us a call at 844-580-0206 or click here to schedule services today at your property in Newton, Danbury, and other CT cities that we serve.
Common Signs of Burst Pipe Damage at Your New England Property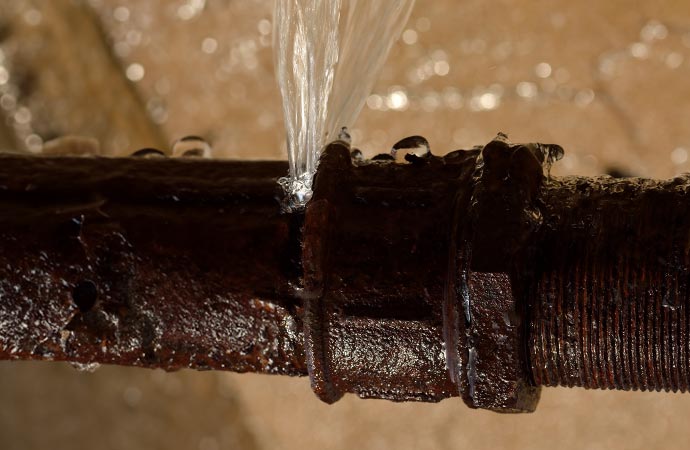 Water leaks: Indicators include water pooling on the floor, wet patches on walls & ceilings, or dripping water from an affected area.
Discolored or rusty water: Burst pipes can cause sediment or rust from the pipe to enter your water supply, resulting in brown, yellow, or cloudy water. This indicates pipe damage.
Unpleasant odors: If a burst pipe is hidden within your walls or floors, stagnant water can create a musty odor indoors.
Mold or mildew growth: Excessive moisture from a burst pipe can create a favorable environment for mold and mildew to grow.
Strange noises: Unusual noises coming from behind walls or floors suggest a pipe burst. This can include the sound of running water, dripping, or hissing.
Rely on Us for Burst Pipe Damage Restoration in Stamford & Danbury, CT
Over the years, New England Restoration has established a reputation for detecting and restoring burst pipes. Whether we need to go underground or into the wall to restore the damage, our crews understand how to handle burst pipe damage restoration for customers in Danbury, Stamford, New Haven, and other cities throughout our service area. When you need our help, give us a call at 844-580-0206 or click here to make a reservation for services at your property today.