Frozen Pipe Restoration in Newtown, Southbury & Danbury CT
Pipes don't freeze, but the water inside them may. When temperatures plummet, the water expands as it turns into ice and could exert enough pressure to rupture a pipe wall or break apart a pipe joint. When leaking or burst pipes strike, New England Restoration is the company to call to dry out, clean up, and restore your living space.
New England Restoration is Fairfield, Danbury, Easton, Riverside, and Torrington Counties's leading water damage restoration company. We have the expertise and equipment to handle a variety of water-related disasters, including burst pipes, clogged drain overflows, and flooded basements. Contact us or call us at 844-580-0206 today to schedule an estimate for frozen pipe restoration services.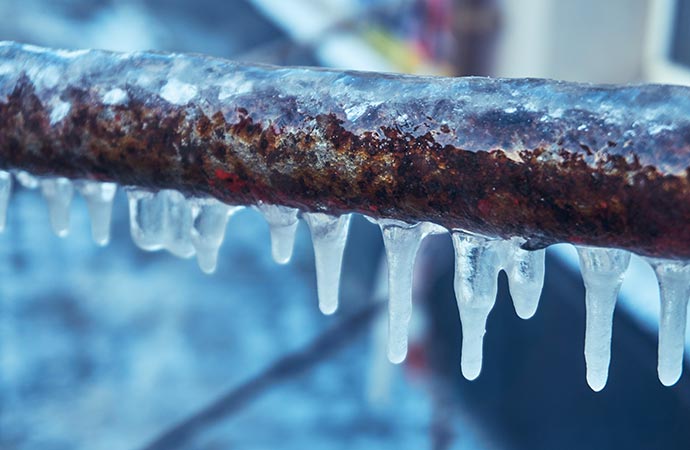 Common causes of leaking, burst, or frozen pipes
Insufficient insulation
Insulation that has been damaged or dislodged
A malfunctioning heating system, typically while homeowners are away
Corrosion, typically at a soldered joint
Damage to a pipe during remodeling activities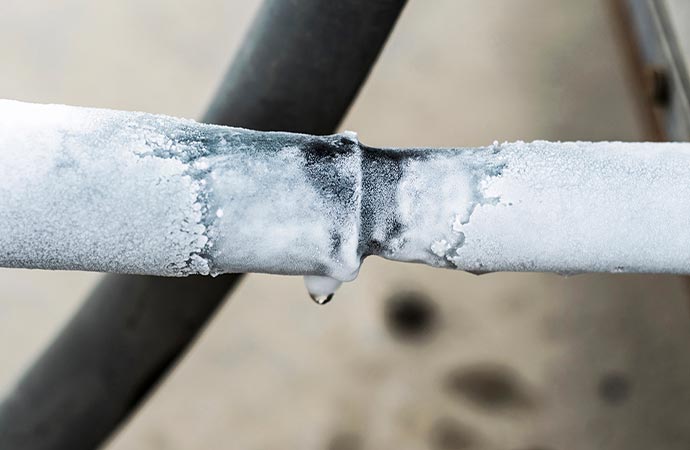 What to do when your frozen pipes burst
There is a very distinctive sound of pipes freezing. It can best be described as a bang or clang. It may not be accompanied by the sound of running water because, for a time, the ice will prevent leakage from occurring. When this happens:
Turn off the main water valve immediately. It is typically located in a basement or utility room. Fast action can minimize damage from a burst pipe.
Call New England Restoration right away. We have operators standing by 24/7. Our emergency crews are usually able to respond within 2 hours and handle the burst pipe cleanup and restoration process.
If the ice in the pipe has thawed and water is flowing into your home:
Note where the sound of running water is coming from.
Shut off the main water valve if you can do it safely, and call New England Restoration. Don't take safety risks when you have flooding due to a burst pipe.
Move valuable items. You can relocate these items to a dry area and take steps to clean and dry them out.
Trust Us for Frozen Pipe Restoration & cleanup Services in CT
New England Restoration is your frozen and burst pipe restoration company. We have heavy-duty drying and dehumidifying equipment to quickly dry out wet materials. This fast-drying action can often prevent mold from forming. In other cases, items like carpeting may need to be removed to facilitate drying and cleaning the space. So whenever you need our assistance for your home or business, call us at 844-580-0206 or contact us online to make an appointment.