Fixing Overflowing Washing Machine in Fairfield, New Haven, & Litchfield Counties
What could be more aggravating than a washing machine that overflows and floods your entire home? It's not only difficult to clean up the entire area, but it also causes water damage and the risk of mold growth if the area isn't dried and restored properly.
If your washing machine overflows, please contact New England Restorations. For many years, we have been your local and trusted restoration expert in Ansonia, Branford, Colebrook, Danbury, Guilford, Kent, Milford, Oxford , and the surrounding areas. We not only remove the flooded water, but we also repair any damage caused by the overflow.
Call at 844-580-0206 to know more about washing machine overflow repairing for your house with free estimates!
Benefits of Choosing New England Restoration for the Residence of Newtown, Southbury, Brookfield & Danbury CT and Surrounding Communities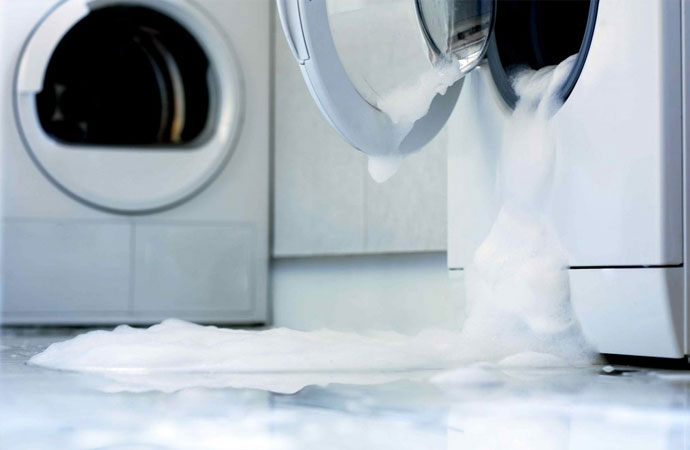 We will assist you in every step of the process, from assessing the damage to filing insurance claims.
We have been in the restoration business for over three decades and offer a FREE inspection and comprehensive estimate.
Our emergency recovery service is available 24 hours a day, 7 days a week.
Our recovery team inspects your damage and provides the necessary service within an hour.
Must Do Steps for Preventing Washing Machine Overflow
Replace the supply lines every five years
Clean the standpipe and drain on a regular basis
Do not overfill the washing machine
Always use the right amount of detergent
Never leave the washing machine unattended
Contact with Us for Efficient & Economical Washing Machine Overflow Repairing at Newtown, Southbury, Brookfield & Danbury CT
One of those worst-case scenarios that you hope never happens is overflowing washing machines. Water on the floor may appear to your children to be a fun slip-and-slide, but you already know the problem will be messy... and costly to fix.
We can inspect your washing machine pipes at any time at New England Restorations to ensure you don't have an overflow. Following these guidelines is a good start, but if you want to be sure you won't return home to a soggy laundry room floor, call us.
You can also contact us for water damage, fire damage, storm damage, mold remediation and other unexpected disasters for homes and commercial properties. If you are experiencing any issues, be sure to schedule service with us by contact online, or calling us at 844-580-0206.