Storm-damaged Roof Restoration in Newtown & Southbury, CT
An affected roof is not safe for a home and the residents live there. The upper canopy of your home may not survive each natural event as it has limited capacity. So, after a storm, you must check the status to know what the condition is. And, if, unfortunately, the storm damages the roof, don't waste time and call for a professional's help.
Are you living in any city in Bridgeport, New Haven, Stamford, and other service areas? Then, stop worrying about whom to contact for storm-damaged roof restoration. Because New England Restoration is available with almost four decades of professional experience and skilled technician teams.
Dial 844-580-0206 and get our 24/7 response quick restoration and other services at your convenience. Click here to contact us online.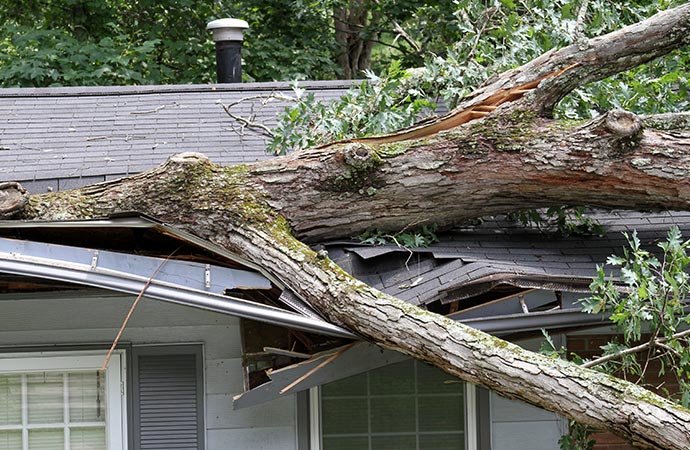 Why Storm-damaged Roof Restoration is Necessary?
Storms can affect your roof in many ways through wind, hail, broken branches, etc. That can cause leaks or other damages that can result in
Structural damage
Infestation of microorganisms at different indoor places
Spoiling home appliances
Threats to heal
To stop them and prevent further water damage, immediate restoration is a must. The New England Restoration teams are efficient in providing you with first-class services to avoid these adverse situations both for commercial and residential premises. We also offer services for flood damage, structural damage, water pipe break, etc. with insurance claim assistance.
Call New England Restoration for the Best Restoration for Your Storm-Damaged Roof
Feel free to reach us by calling at 844-580-0206 and secure your damaged roof with the help of our experts. You can also fill up an online service request form by clicking here. We are renowned for the fulfillment of our commitment and workmanship to our customers. Check out what our customers think about us. We also provide free estimates.