Pipe Leak Cleanup in Newtown, Southbury, & Brookfield, CT
A plumbing pipe leak is a common but significant issue for every property owner. Pipe leaks may cause significant water damage, an unhealthy atmosphere, and eventually mold development if they are not fixed in a timely manner. To protect your property, you will need pipe leak cleanup services, and possibly water damage restoration services, from our IICRC-certified experts at New England Restoration.
For many years, our experienced crews have set the local industry standard throughout Connecticut for pipe leak cleanup services and other water pipe break emergencies. Our technicians are on-call on a 24/7/365 basis to respond at a moment's notice in your hour of need. When you need our help, contact us at 844-580-0206 or click here to schedule an appointment today in Newtown, Southbury, or Brookfield.
Consequences of a Water Pipe Leak at Your Property in New England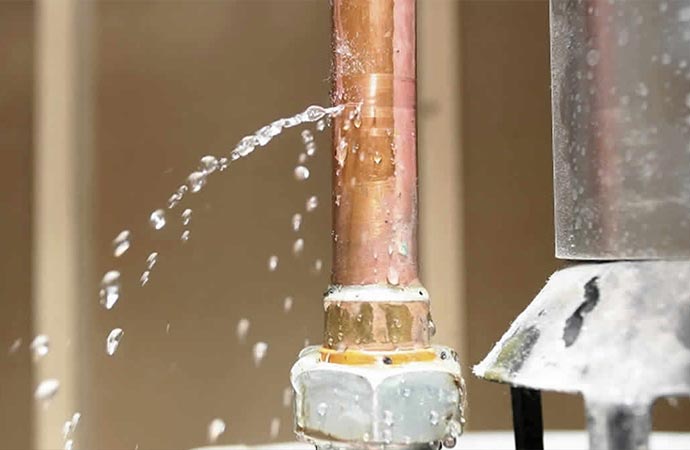 When a water pipe leaks at your home or office, it can disrupt heating, sanitation, and water supply. This can trigger property damage, flooding, and other issues. A serious water line break can cause significant, expensive damage that requires the immediate attention of New England Restoration to restore your property to its pre-loss condition. When a water pipe leaks, the immediate issues include:
Water Wastage: An enormous amount of water will be wasted when a water line leaks, upping the likelihood of water damage to your property.
Mold and Mildew: Water damage can lead to mold infestation easily. When exposed to moisture, mold can grow in 24-48 hours.
Water Bills: A water line break will cause a significant spike in the water bill, even in your absence.
Let Us Clean Up & Restore Your Pipe Leak Damage in Danbury & Greenwich
Immediate action is required to reduce any kind of water-caused damage. When you need the best pipe leak cleanup service for your home or business in Danbury, Bridgeport, Greenwich, New Haven, or any of the other cities we serve in New England, rely on the IICRC-certified restoration experts at New England Restoration. With 30 years of professional expertise, we provide emergency water restoration services around-the-clock. To learn more, dial 844-580-0206 to receive a free estimate. You can also contact us online to schedule an appointment for services today at your property in New England.