Roof Water Damage Restoration in Newtown & Danbury, CT
It's normal to be concerned about the roof's status noticing stains in the ceiling, bad odor with the presence of mold, and damaged or missing shingles. It's because together all these indicate defects in the roof by water damage. To give you relief from this tension New England Restoration is available in Southbury, Brookfield, Stamford, Bridgeport, and other service areas with an IICRC-certified technicians team with first-class services.
Feel free to call us at 844-580-0206 and set an appointment with our restoration team for quick and quality roof water damage restoration. To send us a service request online click here.
Causes of Roof Water Damage
Roof water damage can occur both by natural events and structural issues. Natural reasons include wind or hail damage. It's also normal for the roof surface to get leaks from broken tree branches falling on it.
Improper installation, faulty materials, and aged roofs are also reasons for the weak surface that can't prevent water infiltration. Sometimes, blocked gutters also contribute to this damage and make the house owner suffer.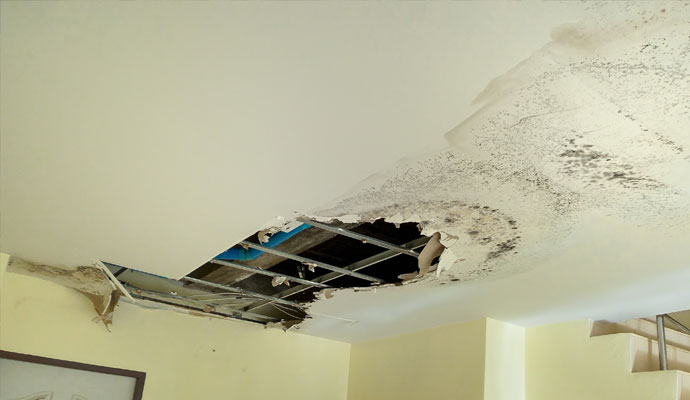 Why Choose New England Restoration?
Since 1986 New England Restoration has been a reliable and popular name to its customers in Connecticut. Both for residential and commercial premises we are 24/7 available to fix different water damage issues such as sewage cleanup, restoration for floor water damage, flood damage, etc.
Our customers trust us. With their appreciation, our uncompromised sincerity and professionalism have helped us gain a reputation for exceptional workmanship after this long decades of journey being a part of the industry.
Trust Us for Professional Water Damage Restoration Services
It's not always possible to avoid water damage. But, you have the choice to prevent these kinds of nuisances from taking away your peace of mind. Dial 844-580-0206 and talk to us directly about your problem. To contact us online click here.