Main Water Line Break Restoration in Newtown & Danbury
The main water line break is a serious plumbing calamity. Water damage happens quickly because of the volume of water released. When it is time for main water line break restoration services, you will need to rely on the proven professionals from New England Restoration to get your home or office back to its pre-damaged condition in the wake of serious water damage to your property in Newtown, Southbury, Brookfield, and other cities that we serve.
At New England Restoration, our IICRC-certified technicians have the training, equipment, and technical expertise to manage every stage of the restoration process. When you need our help or want a free estimate, give us a call at 844-580-0206. You can also click here to secure our services today at your property in Danbury, Bridgeport, Greenwich, New Haven, or any of the other cities within our service area across New England.
Consequences of a Main Water Line Break at Your Home or Office
Homes, offices, and the local infrastructure can sustain serious harm when there is a main water line break. Water supply, sanitation, and heating systems can all be adversely affected, causing flood damage, structural damage, and more. A major water line break will require significant water damage restoration services. To minimize the damage, several issues must be addressed promptly in the wake of a main water pipe break: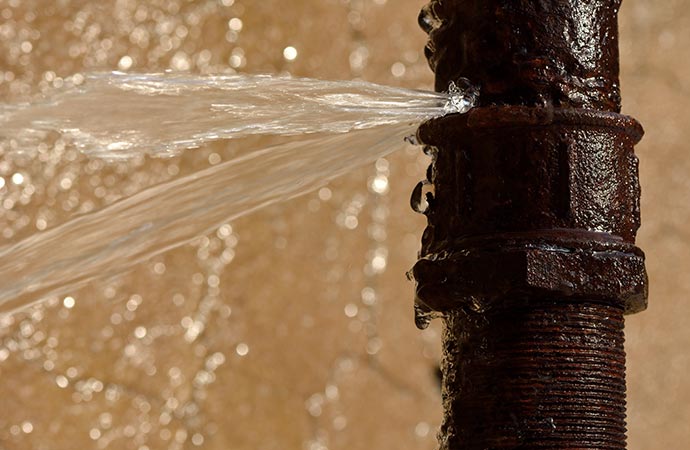 Water deficiency: With a main water line break, there will be a building-wide or neighborhood-wide water shortage.
Water pollution: Contaminants entering the main water supply through a damaged main water pipe make the water undrinkable.
Spoiling quality: The large volume of water involved can build up inside your walls & cause them to compress and fracture.
Disease spread: A damaged main water line allows contaminants into the water supply, leading to a spike in illnesses.
Trust Us to Restore Main Line Water Damage in Bridgeport & New Haven
When you need main water line restoration services for your home or business in Greenwich, New Haven, Newtown, Southbury, Danbury, Bridgeport, or any of the other cities we serve in NE, trust the restoration specialists at New England Restoration. With 30 years of professional experience, we offer a 24-hour emergency response when you call for services. By contacting us, you can be sure that we will be there when you need us to assist you in promptly and expertly restoring your structure. To learn more, call 844-580-0206 for a free estimate or click here to schedule an appointment for services at your property today.