Repairing Burst Water Heater in Fairfield, New Haven, & Litchfield Counties
Your home's hot water heater is a fantastic device for daily usage. It can quickly heat water for showers, dishes, laundry, and other purposes. It can do this because it continuously refills as it empties, effectively making its water supply limitless.
Unfortunately, if the tank begins to leak, its constant refilling ability can cause serious problems. Depending on the severity of the leak, it could cause serious water damage to your home or office if it goes undetected for several hours.
If your water heater does unfortunately burst, and you need immediate water heater cleanup in Ansonia, Branford, Colebrook, Danbury, Guilford, Kent, Milford, Oxford and surrounding communities, call us at 844-580-0206 to know more about our service with free estimates!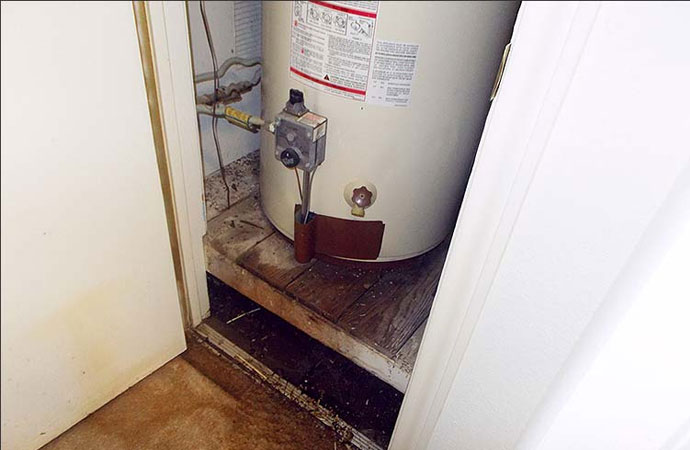 Immediate actions that need to be done after water heater bursts:
1. Turn Off The Water Supply: Turn off the water supply immediately if you notice water leaking from your heater. Close the pipe that connects the main water line to the water heater's top. To prevent water from entering the tank, look for a valve at the point of contact between the water supply and the tank and turn it clockwise.
2. Put Off The Power Supply: A water heater has an internal gas or electric heating element that is usually submerged. If the hot water tank runs out of hot water, the element will be exposed and dry, posing a fire hazard.
The element is supposed to turn off when it reaches a certain temperature, but a leaking tank could cause it to fail and stay on. Look for your hot water's breaker.
3. Remove Everything That Is Near The Water Heater: Remove any furniture, boxes, or other items that are close to the water heater to avoid damage. Remove the items from the vicinity of the heater so that they do not come into contact with water, which could cause them to spoil.
4. Call A Professional Plumber: After you've turned off the power and turned off the water, you'll need to hire an emergency plumber to clean up and repair your plumbing and water tank. If the damage is severe, you can also contact your insurance company.
5. Clean Up Excess Water: While you wait for the plumber to come and fix your device, clean up the mess left by the excess water. If you have one, a wet vacuum cleaner can be used, or a mop and towels can be used to clean up.
Some risk factors and warning signs of an increased risk of water heater leak or explosion:
Your water heater is over ten years old, and it makes clanking, banging, or rumbling noises as it heats up, indicating sediment has built up and hardened inside the tank.
There is visible rust on the outside of the water heater, particularly where the pipe fittings or seams that run down the tank are located. There is rusty water coming from your water heater, indicating that there may be rust building up inside.
Your water heater is leaking, which could indicate either a crack somewhere in the tank or a malfunctioning temperature-and-pressure (T&P) relief valve.