Expert Mold Decontamination Services in Newtown, Brookfield & Danbury CT
Molds are a natural part of our ecosystem, but prolonged exposure to mold harms your health and well-being. So, if you are concerned about your family or have a vulnerable member prone to mold allergies, it is best to have it fixed as soon as possible! That's where New England Restoration comes with 30 years of experience and expert mold decontamination services to free you from your worries about mold.
We follow proper procedures and steps to decontaminate the molds in your space and get the mold levels in your home back to a harmless point. You can also avail of our water damage and fire damage restoration services if you live near Ansonia, Bantam, Bethany and our other service cities. So, please Don't wait and get our expert help at 844-580-0206 or simply click here.
Steps of Mold Decontamination
Mold spores are naturally present in all indoor and outdoor environments. Thus, it is theoretically impossible to eliminate all molds- the key is to manage their growth. Here at New England Restoration, we follow appropriate steps to ensure proper mold decontamination so that mold stays at a safe level at your place, whether it's residential or commercial. Our mold decontamination steps include mold testing, removal, demolition, sanitizing, containment, and mold cleaning.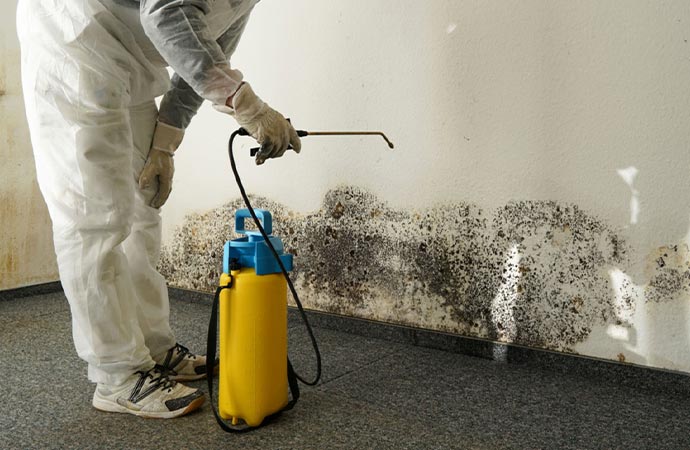 Can You Do Mold Decontamination Yourself?
Mold growth can appear harmless at first as a simple discoloration. However, potentially dangerous health problems can lie beneath this simple unsightly mold stain. Mold has been discovered as a key cause of the current increase in asthma and other respiratory diseases. So it is best to leave it to the professionals to decontaminate the molds in your home to get it back to a healthy level.
We at New England Restoration, our experienced mold remediation professionals, carry out safe mold decontamination that preserves the structural integrity of your house without risking the health of its residents.