Post Storm Clean Up Service in Newtown, Southbury, Brookfield & Danbury CT
When disaster strikes, you need a solid backup plan. Our post storm cleanup service is here to provide you with everything you need to clean the disaster-stricken area fast and efficiently in order for you to recover and rebuild or repair your house if needed.
New England Restoration will evaluate any damage to your property and recommend the best and most cost-effective reconstruction solution to your problem caused by natural disasters. We are available 24/7; even during holidays. Our emergency service is what you really need if you want the restoration process to move forward as fast as possible. We will dispatch a van and a team of skilled tree removal and yard cleaning experts to perform a thorough cleanup.
Call us today at 844-580-0206 to know your post storm damage reconstruction with free estimates.
Why Choose Us in Newtown, Southbury, Brookfield & Danbury CT
You want to return your lawn and other parts of your home to their previous condition and this is a perfectly reasonable demand. Our team works hard to deliver great results even after a terrible storm. We will take the time needed to make your lawn neat again. We also have insurance claim assistance including in our services.
Here is a list of services we usually offer:
After cleaning hundreds of lawns and properties that were damaged by storms, we have accumulated decades of experience and we can surely do something for you if you face such a critical situation.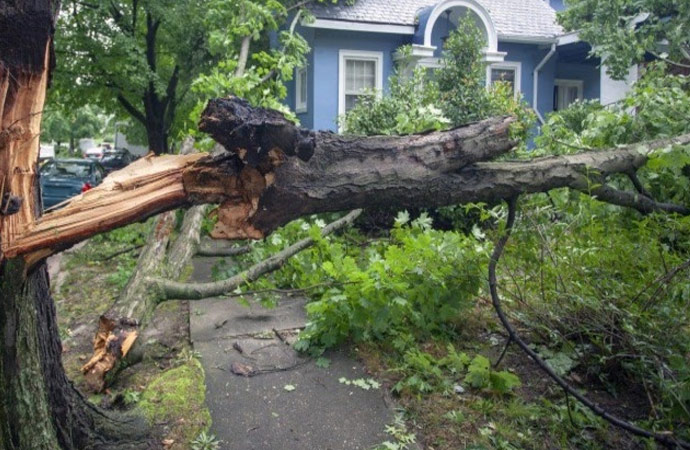 Count on New England Restoration for Post Storm Clean Up Service in Newtown, Southbury, Brookfield & Danbury CT
There are dozens of things already on your to-do list if you are experiencing a heavy storm. Post storm cleanup is a task that you can easily check off your list with a simple phone call to New England Restoration. We use commercial equipment and draw from a vast skill set, which allows us to work more efficiently than the average do-it-yourselfer. We've been delivering our services at Ansonia, Bantam, Branford, Greens Farms and nearby areas.
We identify potential, post-storm issues on your land that you might not notice by our exceptional workmanship. When you need our services, give us a call at 844-580-0206 or contact online to experience our award-winning service for yourself.